KOSMOS invites you for a LIVE trek into TIME, SPACE and SOUND.
"I believe our future depends on how well we know this Kosmos, in which we float, like a mote of dust in the morning sky…"
— Carl Sagan
A Club night with pure, raw and uncompromising techno featuring two live acts: REDLED and PHONOGENIC.
A Journey into the multi-dimensional wormhole with according soundsystem and video engineering.
A Night of interplanetary connection, otherworldly love and that hypnotic, pumping BASS.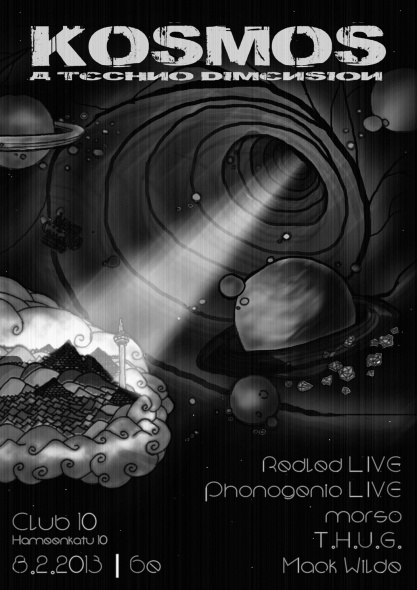 LINEUP
► RedLed LIVE (M_rec LTD, Propellant Music)
Johan became interested in electronic music in the mid 90's. Taking inspiration from various genres going from techno and house to more experimental stuff, the interest in music led him early on to start producing own material under the RedLed moniker.
Always striving to create fresh sounding tracks, but staying connected to the roots of his musical inspiration RedLed turns out tracks that are a blend of deep atmospheric techno and funky grooves.
CHECK OUT https://soundcloud.com/redled
► Phonogenic LIVE (MOODMUSIC, COCOON)
Tuomas Salmela, hailing from sunny old Finland, has been working the European dance music underground for quite some time now. You may be familiar with his slammin' releases on Cocoon, Moodmusic, Turbo or even the late Chicago giant Guidance. Well, how about his own label then, Phonogenic Audio, one of the coolest new labels to come out of Scandinavia.
Supported by the biggest DJs in the industry, Tuomas' material produced under his PHONOGENIC moniker is well recognisable: a perfect amalgam of dirty body-moving beats, eloquent melodies and haunting harmonies. A strong influence of Detroit techno and Chicago house can be heard through the whole catalogue of tracks, serving as foundation of fresh dirt, from where new things are born.
SEE ALSO https://soundcloud.com/phonogenic
► Morso (MOVERS)
Only few people have seen this quasi-mythic character. He roams the streets of Tampere, ever watchful, only visible to us in the fading light at sundown. Morso manifests a mad, dub-psyched techno with the blunted edge of the vinyl.
From his beat laboratory he now makes a sojourn to KOSMOS, bringing forth the acidic grooves and the mind melting rhythm.
Beware, we are plunging deep into the cosmic swamp with this one.
DIVE IN http://soundcloud.com/morso/kosmos-promomix
and your usual rocket engineers:
► Mack Wilde (KOSMOS)
► T.H.U.G. (KOSMOS)
They are the ones that started it all in Hong Kong, where the first KOSMOS-event took place last spring. Profound followers of techno, they know what it's all about and they want to show you! This techno tag team will be warming up the night with comforting audio-impulses for faster-than-light travellers.
HEAR https://soundcloud.com/kosmostekno/t-h-u-g-b2b-mack-wilde
CHECK US OUT @ http://dj.beatport.com/mackwilde & http://dj.beatport.com/thug
///////////////////////////////////////////////////////////////////
Blast doors will open at 22:00 and the airlock fee will be 6 euros per space traveller.
Cloakroom fee included.
LIFT
OFF
KOS
MOS